Stop throwing your hard earned money away on fencing that will do nothing but cost you more money later on. Eliminate the high maintenance of board fencing, the molded look of vinyl fence, the high possibility of vet bills due to injuries to your horses with barbed wire or high tensile fencing. Go RUBBER today....

*Safe*Strong*Durable*Economical*Ecological*

Price List

Size @Length Cost

1 INCH 70 FEET $0.15 per Foot

2 INCH 30 FEET $0.30 per Foot


SHIPPING NOT INCLUDED

You will find that our pricing is 30% to 50% less than other manufacturers of rubber fencing.

TERMS: Payment to be made on delivery.


Sample Package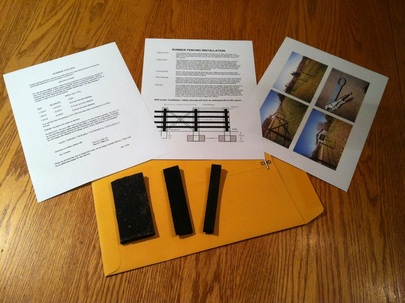 There are sample packages available to be shipped out if you would prefer a more hands on look at the product. This is what you will receive by mail..

---
WARRANTY

We now offer (as of 4/97) an exclusive 10 year limited warranty. We know of no one else that makes rubber fencing that offers a warranty. It's real simple. Purchase and install our fencing material per the instructions provided. If it fails before 10 years, we will replace the material at no charge, period. Sorry, installation is not included.

Delivery

Please be advised that due to rising fuel costs, we no longer include delivery. There will be an additional charge for this service.

Great opportunities for you to be a part of "Rubber Fencing"

Here is a picture of one of our displays, it stands 4 ft. tall and 4 ft. wide. It displays 1 inch material on the front and 1/2 inch and 2 inch materiel on the back, there is also an example of a facer strip on the right hand side. Join us and everyone working with us, put display up today and let it start working for you.

---